For some people second hand goods seem to have no value and price at all. These items are usually thrown in the trash and sometimes cause pollution. It's very different from this artist, Artūras based from Lithuania making steampunk art and using various antiques and metal details.
His works are truly extraordinary, with creative ideas, talent and high sense of art can create a variety of interesting and amazing creations that are sometimes unthinkable to us, by utilizing and maximizing end-of-life goods. The majority are found in abandoned land, landfills such as rotors, blades, gears, and springs from old rusty machinery, cars, bicycles and abandoned factories or just randomly.
The series of works of art aimed at drawing attention to the problem of waste production, non-reused materials, pollution and their effects on the planet. This is a problem that tends to be forgotten and considered trivial.
He wrote on boredpanda that one of his favorite works is The Royal Penguin. "I create steampunk art and use various antique stuff and metal details. I've been thinking about creating a penguin for a long time. These creatures are funny for me but at the same time graceful and elegant. The royal penguin catched my eye. He seemed to be the perfect one to realise my ideas. While I was holding an old motorcycle lamp housing in my hand, the idea came - it will be the main part of the body! The rest came itself. I didn't try to copy the exact proportions of the body, I wanted to make it as funny animated cartoon character or something like that and my fantasies became reality. The royal penguin stands on the transparent floe with dignity, looking into the distance as if knowing exactly where the next hole will be drilled".
Chek out the amazing artworks below!
More info: artistartas.com | Facebook
Vintage Radio Car
Royal Penguin
Octopus Jewelry Box
Chameleon
Coffee Man
Piggy Bank
Chameleon 2
Ostrich-Runner
Spaceman
Wine Bottle Rack
Walrus
Heart Box
Trimmer
Turbo Fish
Nso
Playboy Rabbit
Icarus
Nitro Dragster Made Of Saxophone And Russian "Volga" Car Part. Dragster's Length Is 80cm. 2015
Snail
Chopper
Beetle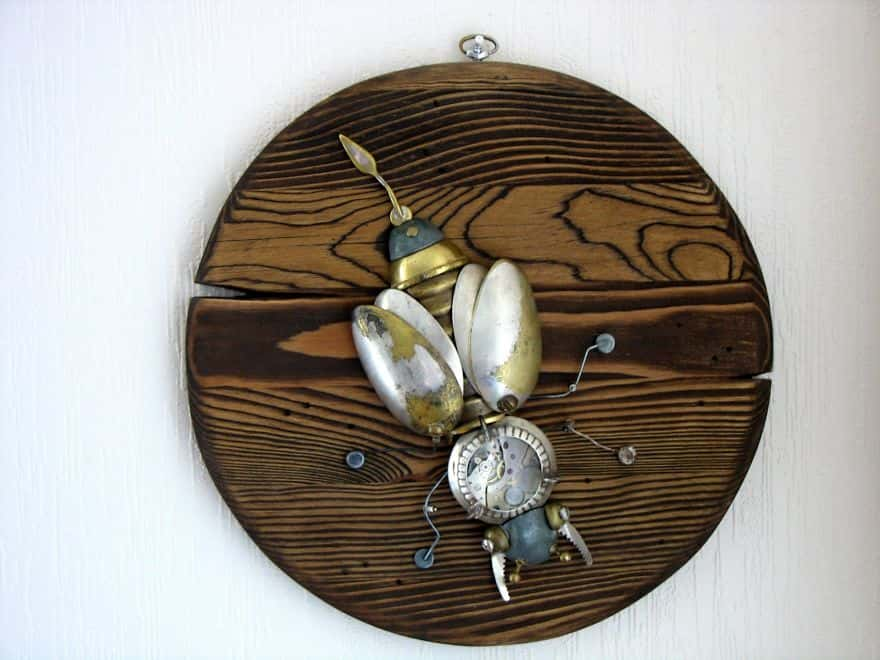 Steam Machine
Insect
Devil's Advocate
Hunting Scalp
New Species
"Bobbin" Radio
Unidentified
Moto Voyage
Robocop