LA-based artist Yaoyao Ma Van As who has 844k followers, she has created a colorful illustration series that celebrates the intimacy of living alone.
With positive thoughts, we can experience everything without being burdened by a thousand bad thoughts. We also avoid feelings, fear of failure, and always productive, like these illustrations.
So, for those of you who feel that you are not yet positive thinking, from now on learn to think positively even if you are alone at home, enjoy your life!
https://www.instagram.com/p/CAp1aPTnmu3/
"My professional experience includes Rick and Morty (Adult Swim), Future-Worm (Disney), and BoJack Horseman (Netflix)," Yaoyao writes on her website. Do you also love living alone? Or maybe you wouldn't last a month without anyone by your side?
Yaoyao's images stand out from the rest for possessing harmonious color palettes and carefully crafted compositions. And it shouldn't come as a surprise, because Yaoyao has been working on some of the biggest animation shows in the industry.
Check out the excellent artworks below!
#1 Relaxing on the couch whenever you want
Image credits: Yaoyao Ma Van As
#2 Reading while playing with your pup
Image credits: Yaoyao Ma Van As
#3 Washing whenever you want
Image credits: Yaoyao Ma Van As
#4 Enjoying in bathtub
Image credits: Yaoyao Ma Van As
#5 Linger in the toilet is not afraid of anyone disturbing
Image credits: Yaoyao Ma Van As
#6 Disassemble toys with puppy
Image credits: Yaoyao Ma Van As
#7 Enjoying A Cup Of Tea While Watching The Rain
Image credits: Yaoyao Ma Van As
#8 Working Whenever You Feel Like It
Image credits: Yaoyao Ma Van As
#9 Escaping Reality
Image credits: Yaoyao Ma Van As
#10 Playing With Your Pup
Image credits: Yaoyao Ma Van As
#11 Enjoying Some Peace And Quiet
Image credits: Yaoyao Ma Van As
#12 Binge Eating All You Wan
Image credits: Yaoyao Ma Van As
#13 Dancing Like No One Is Watching (Cause No One Is)
Image credits: Yaoyao Ma Van As
#14 Doing Nothing All Day
Image credits: Yaoyao Ma Van As
#15 Cuddling With Your Best Friend
Image credits: Yaoyao Ma Van As
#16 Being A Little Clumsy
Image credits: Yaoyao Ma Van As
#17 Enjoying The Little Things
Image credits: Yaoyao Ma Van As
#18 Bathing As Long As You Want
Image credits: Yaoyao Ma Van As
#19 Having A Party With Yourself
Image credits: Yaoyao Ma Van As
#20 Snacking Whenever You Feel Like It Without Anyone Judging You
Image credits: Yaoyao Ma Van As
#21 Meditating Without Distractions
Image credits: Yaoyao Ma Van As
#22 Having A Carefree Sort Of Walk
Image credits: Yaoyao Ma Van As
#23 Working The Way You Like
Image credits: Yaoyao Ma Van As
#24 Enjoying A Morning To Yourself
Image credits: Yaoyao Ma Van As
#25 Treating Yourself To A Whole Batch Of Cookies
Image credits: Yaoyao Ma Van As
#26 Enjoying Some Quality Me Time
Image credits: Yaoyao Ma Van As
#27 Dreaming On A Rainy Day
Image credits: Yaoyao Ma Van As
#28 Having Your Puppy Around All The Time
Image credits: Yaoyao Ma Van As
#29 Stretching In The Morning With The Room To Yourself
Image credits: Yaoyao Ma Van As
#30 Taking Your Time In The Mornings
Image credits: Yaoyao Ma Van As
#31 Cleaning However You Like
Image credits: Yaoyao Ma Van As
#32 Creating Your Own "Fine Dining" Rules
Image credits: Yaoyao Ma Van As
#33 Waking Up With Your Pup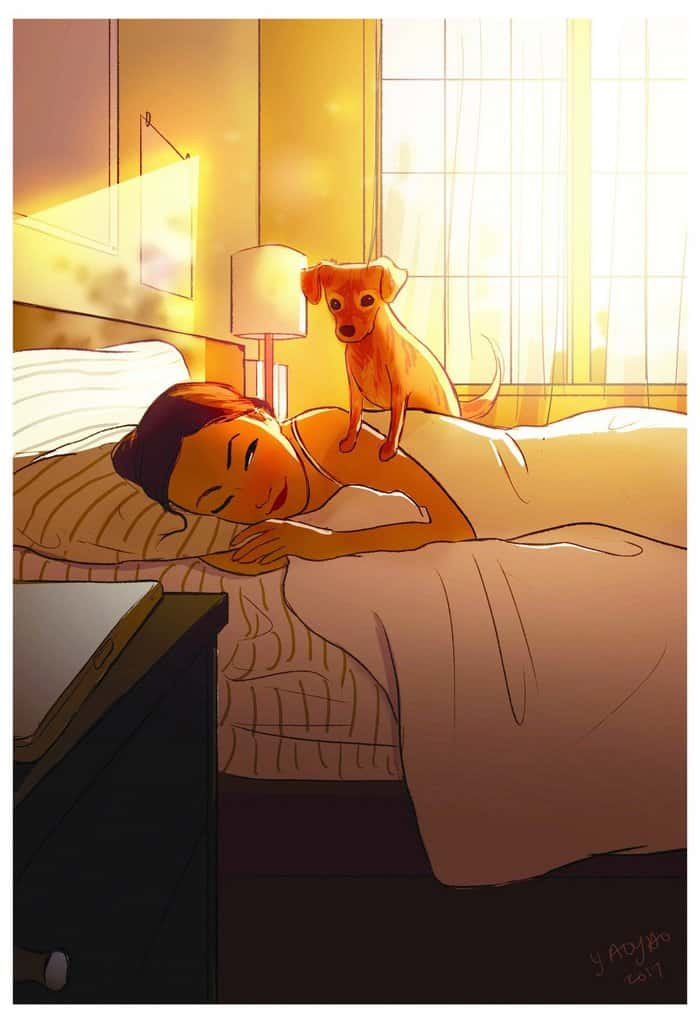 Image credits: Yaoyao Ma Van As
#34 Melting Away Your Troubles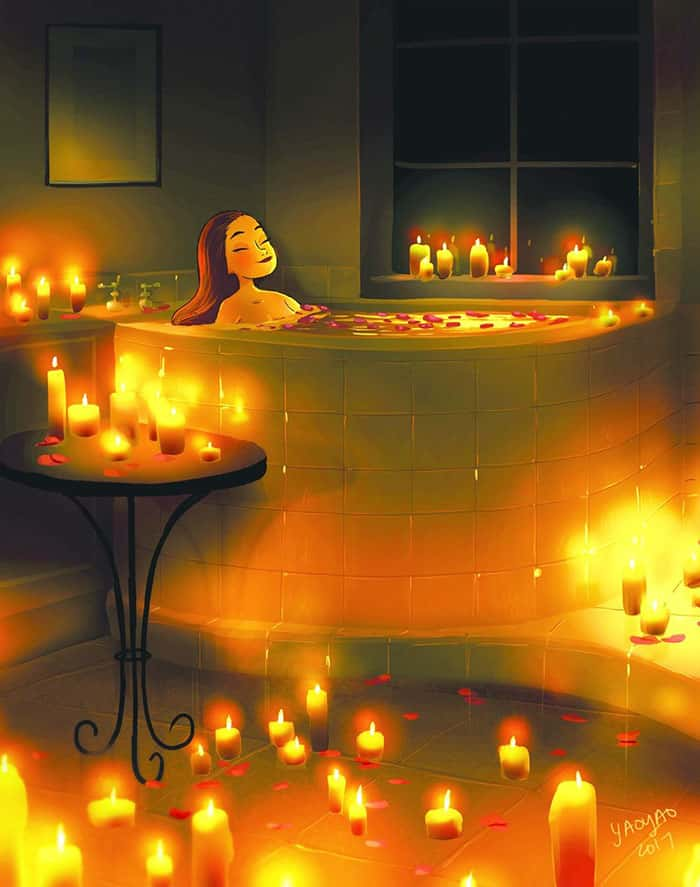 Image credits: Yaoyao Ma Van As
#35 Trying On All Your Clothes
Image credits: Yaoyao Ma Van As
#36 Marking Your Territory
Image credits: Yaoyao Ma Van As
#37 Taking It All In On Your Morning Walk
Image credits: Yaoyao Ma Van As
#38 Making A Mess
Image credits: Yaoyao Ma Van As
#39 Working On Your Flexibility
Image credits: Yaoyao Ma Van As
#40 Doing Laundry Wherever You Want
Image credits: Yaoyao Ma Van As
#41 Being By Your Pups Side
Image credits: Yaoyao Ma Van As
#42 Releasing Your Inner Artist
Image credits: Yaoyao Ma Van As
#43 Leaving Your Hair Everywhere Because You Can
Image credits: Yaoyao Ma Van As
Source: boredpanda
More info, inquiry, and follow: Instagram , Facebook , yaoyaomavanas.com
All images source and credits: Yaoyao Ma Van As