Simon Brown is a needle felt artist who is living in the UK in a small village on the Northumbrian coast. Brown finds old brushes and gives them new life, who creates unique scenes by combining handmade felt animals with used old brushes.
His favorite tools are brushes that have been "heavily used" then adds animals created from wool. The results are spectacular. Some of his tiny animals are so lifelike you must do a double take to realize they are in brushes, rather than actual grass "brush."
Others are sweet and whimsical such as the Bulldog with icecream cone that you can see at TheGentlemanFelter on Instagram. Also, you can see a series of photos there of the creation of the tiny Hungarian Vizsla, including the lifesize model.
Some are realistic and yet whimsical at the same time. You can see his sense of humor in many of his works, which he sometimes emphasizes with the title carved into the handle of the brush. No matter what, these small sculptures made from the ancient craft of needle felting will have you looking at brushes in an entirely new way. And if you have some good, old, heavily used brushes, you might think twice before pitching them!
He wrote in boredpanda , "I find old, beaten up, heavily used brushes that nobody would look twice at and bring them back to life with tiny animals stabbed to life with wool, creating whimsical pieces filled with life, curiosity, and danger," described Simon. His works are incredibly cute and has 45.2k followers on his Instagram account..
Check out Simon's amazing and unique pieces of art in the gallery below!
More info: Instagram

1
2
3
4
5
6
7
8
9
10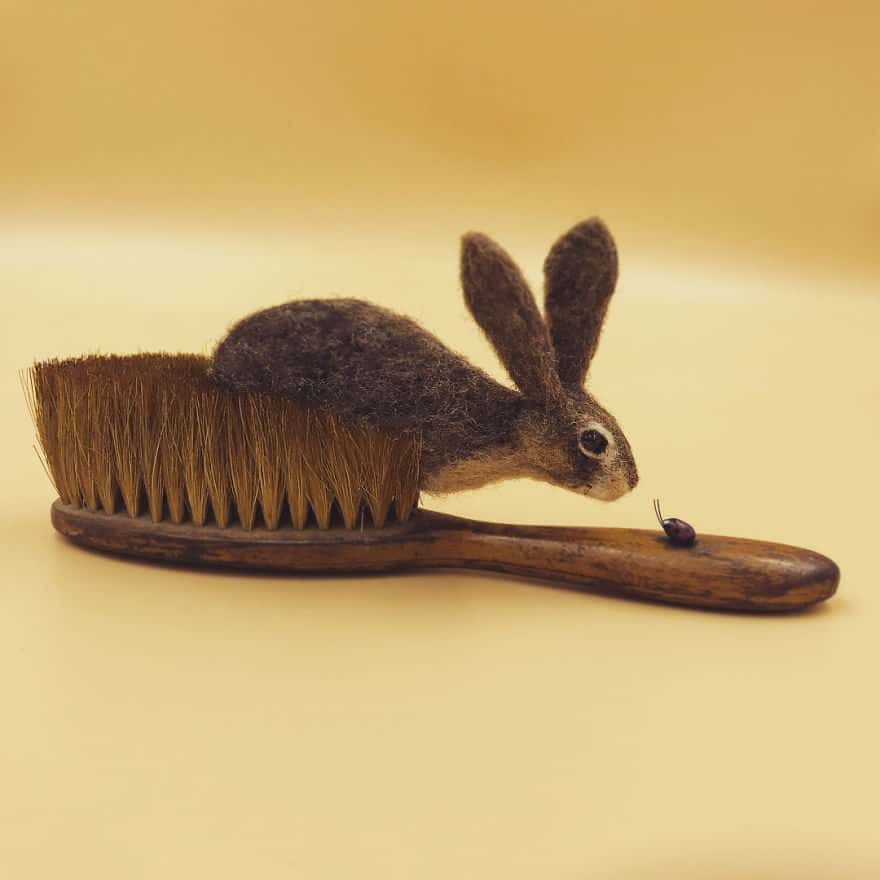 11
12
13
14