It is really boring if during quarantine we don't do any activities, feeling saturated and static will affect our psychology and reduce our enthusiasm. Some people motivate themselves and fill activities in Qarantina's spare time with a variety of positive activities and fun creativity. Likewise, the Croatian Artist Dino Tomic used his free quarantine time to start an amazing new illustration project. This man rearranges several celebrities as different and interesting cartoon characters. Many people like it. He illustrated 22 celebrities who created 198 characters and are likely to be sustainable.
Tomic told Bored Panda that when he wanted to expand the series and reorganize someone new, he usually only listened to his fans and chose one of the famous people they suggested. Because Tomic is trapped inside because of coronavirus, he wants to try something new.
The artist says he has been drawing since he was in kindergarten but only took it up seriously when he was around 16 to 18 years old. Dino is a self-taught artist and is not afraid of trying out new things – perhaps that's why he has amassed over 790k followers on Instagram.
Check out his stunning illustrations of celebrities in the gallery below!
1. Dimitri Vegas
Image source: dinotomic
2. Batman
Image source: dinotomic
3. Steve Aoki
Image source: dinotomic
4. Greenday
Image source: dinotomic
5. Joker
Image source: dinotomic
6. Donald Trump
Image source: dinotomic
7. John Wick (Keanu Reeves)
Image source: dinotomic
8. Bob Ross
Image source: dinotomic
9. Billie Eilish
Image source: dinotomic
10. Johnny Depp
Image source: dinotomic
11. Iron Man (Robert Downey Jr.)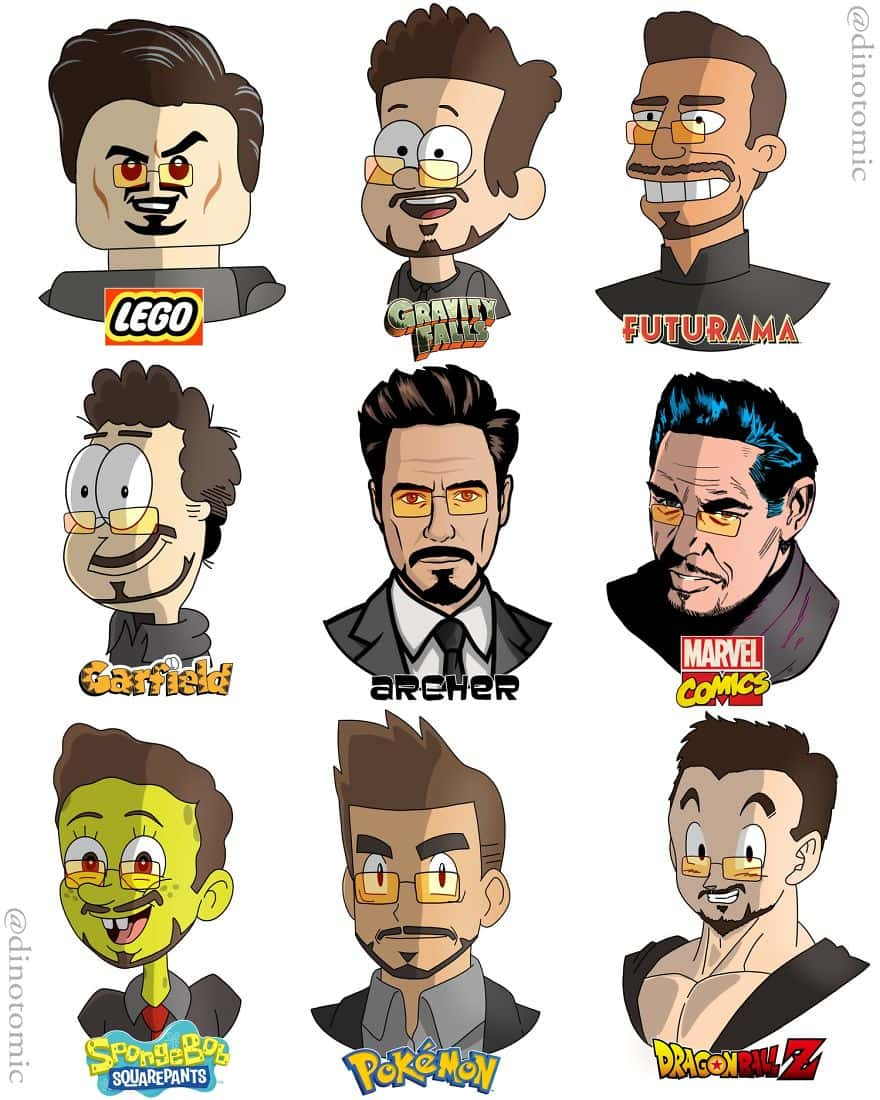 Image source: dinotomic
12. Stan Lee
Image source: dinotomic
13. Tiger King
Image source: dinotomic
14. Post Malone
Image source: dinotomic
15. Kim Jong-Un
Image source: dinotomic
16. Doctors
Image source: dinotomic
17. Elon Musk
Image source: dinotomic
18. Michael Jordan
Image source: dinotomic
19. The Rock (Dwayne Johnson)
Image source: dinotomic
20. Mike Tyson
Image source: dinotomic
21. Pewdiepie
Image source: dinotomic
22. An Egg
Image source: dinotomic
Source: BoredPanda
More info, inquiry, and follow: dinotomic.com | Facebook | Instagram