Getting married can be called a new adventure for a married couple. Various events will be experienced with a partner. Besides being fun, getting married also has many funny, sweet, and emotional moments.
Image credits: Yehuda Devir
Yehuda Devir, an illustrator and comic artist who lives in Tel Aviv, is truly creative. One of his works is a comic that describes his daily life with his beloved wife, Maya. The comic, named One of Those Days, illustrates the daily life and small things about the things that he goes through with his wife. Seeing this work made me laugh. If you are already married, there may be several situations in this comic that you have experienced the same. And those who are not married yet, hm ... beware, you can see this romantic picture.
Image credits: Yehuda Devir
Pregnancy is usually always expected by a husband and wife. Various preparations were made so that the pregnancy process runs perfectly. In the middle of the waiting process, we can be sure that there is a cuteness that occurs especially for married couples who first experience this moment. After their funny story in the previous article , this time they poured their experiences into sweet illustrations and shared their experiences when his wife was pregnant.
Image credits: Yehuda Devir
When Yehuda was interviewed by Bored Panda in 2018, They have been trying to get pregnant for about a year. When they do that, they realize that the family is the greatest creation that can be expected. Judah and Maya began their pregnancy journey in 2018 and said the process was difficult for both of them. The hardest part is at the end of every month when Maya used to have periods. Constantly dealing with a lack of success makes them feel as if they are not in control of life, a terrible feeling.
Well, the couple returned and their latest adventure - Maya pregnancy - has been illustrated by the perfection of comedy.
What is Devir's joy over his wife's pregnancy? Watch out, unmarried don't get carried away!
Check out the amazing artworks below!
1. Moving to the Countryside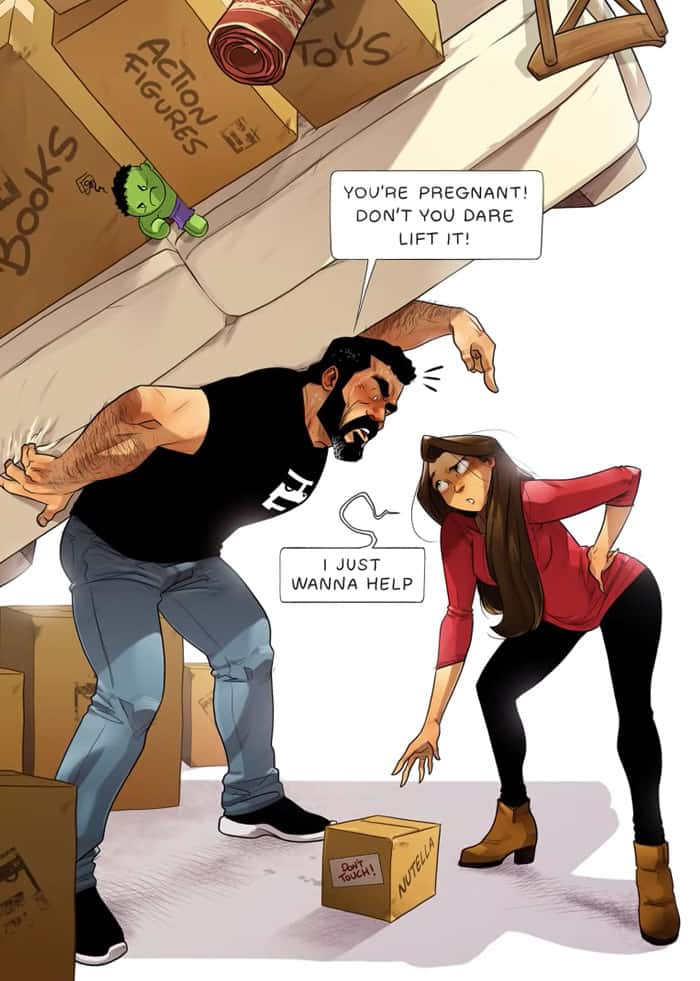 Image credits: Yehuda Devir
However, despite the challenges, this creative and funny couple succeeded because of a strong bond. They've been together for a long time so their friendship and love seem so strong. They can achieve everything if working together and challenges make it stronger.
2. Say Hello to Her Little Friends!
Image credits: Yehuda Devir
Fans of the duo love couples because they share challenges related to this and funny moments. Viewers see their life through "One day" and feel that they are not alone. There are other people somewhere in the same world as them, who experience ups and downs in their relationships [as well], and that gives [them] a sense of relevance.
Yehuda and Maya first met during their military service and formed a relationship after long friends. "Their comic series" One of the days "is based on real-life moments that happened to them and about creating pleasant memories with funny and interesting illustrations.
3. I bought her a Physio Ball
Image credits: Yehuda Devir
While Judah is the main illustrator of the comic series, his wife is also an artist and helps him with concept and composition sketches. After that, Devir sat down and started working. When it was finished, Maya added her suggestions for improvement, suggested colors, typography, and so on. All of these processes take no more than a day. Devir told Bored Panda.
4. Body changes
Image credits: Yehuda Devir
5. The First Kick
Image credits: Yehuda Devir
6. Our Valentine's Day ❤❤❤
Image credits: Yehuda Devir
7. Salt Face
Image credits: Yehuda Devir
8. Belly Pillow
Image credits: Yehuda Devir
9. She comes in PISS
Image credits: Yehuda Devir
10. Almost there!
Image credits: Yehuda Devir
11. Water Break!
Image credits: Yehuda Devir
12. After 17 hours of endless labor pains, we did it!!! We received a new angel to the family!!! ❤❤❤
Image credits: Yehuda Devir
13. That touch ❤
Image credits: Yehuda Devir
Source: Bored Panda
More info, inquiry, and follow: Website I Facebook I Instagram I YouTube I Twitter I Patreon
All images source: Yehuda Devir