When you see these cute balloon shapes you will be surprised because almost all animals, insects, and plants can be formed using ordinary balloons. These artworks are created by an artist of Japanese, Masayoshi Matsumoto. In his Instagram account, he revealed who did not use hazardous materials when making balloon dolls. The shape is very similar to its real form. Masayoshi Matsumoto's cold hands will really make you stare, from the simplest form to the complicated.
He works with his balloon doll have spread in various online media and received many positive reactions. Even in his own country, Masayoshi Matsumoto's work was warmly received. He started making balloon dolls around 2010 or around 10 years ago. He claimed to be inspired by pictures of wildlife and wanted to prove it if he made it with his own version.
What surprised many was his colorful and colorful collection of balloons, Masayoshi did not use materials such as color markers, stickers, or other materials. He makes his balloon dolls only with the balloons he blows, changes and shape as he wants.
It seems like nobody can deny Matsumoto's greatness in making balloon dolls. The forms of imagination such as the Phoenix Bird in the Harry Potter films also successfully manifested by Masayoshi Matsumoto with very neat and charming. Balloon dolls like this can certainly be a very special gift, right?
It turned out that the version who made was very interesting. Even Masayoshi is one of the best balloon artists in the country of Sakura. Matsumoto's imagination and creativity cannot be doubted. For just one balloon doll, He takes approximately two to six hours to complete.
1
Image credits: Masayoshi Matsumoto
For example like a balloon doll with this bull shape. The balloons used to come from several different colors, but the composition feels very fitting. Even the size of the tail, legs, head to horns also matches the portions.
The sizes are not too large or small. Even accessories like nose clips are made by Masayoshi Matsumoto in great detail.
2
Image credits: Masayoshi Matsumoto
Another example is a deer-shaped balloon doll. This doll is obviously very different from cloth dolls or even barbie dolls. This deer-shaped doll has three different gradations from black on the horns, cream color in the mouth and lower abdomen and body parts are dominated by brown.
3
Image credits: Masayoshi Matsumoto
As proclaimed from the metro, to complete each balloon to become a new form, Japanese artists who learn by self-taught it takes a minimum of two hours, even up to 6 hours if the shape of the balloon made more complicated. Matsumoto explained, "I started making these seven years ago, I was really inspired by wildlife pictures and wanted to see if I could create realistic animals of my own," Matsumoto told Metro .
4
Image credits: Masayoshi Matsumoto
5
Image credits: Masayoshi Matsumoto
6
Image credits: Masayoshi Matsumoto
7
Image credits: Masayoshi Matsumoto
8
Image credits: Masayoshi Matsumoto
9
Image credits: Masayoshi Matsumoto
10
Image credits: Masayoshi Matsumoto
11
Image credits: Masayoshi Matsumoto
12
Image credits: Masayoshi Matsumoto
13
Image credits: Masayoshi Matsumoto
14
Image credits: Masayoshi Matsumoto
15
Image credits: Masayoshi Matsumoto
16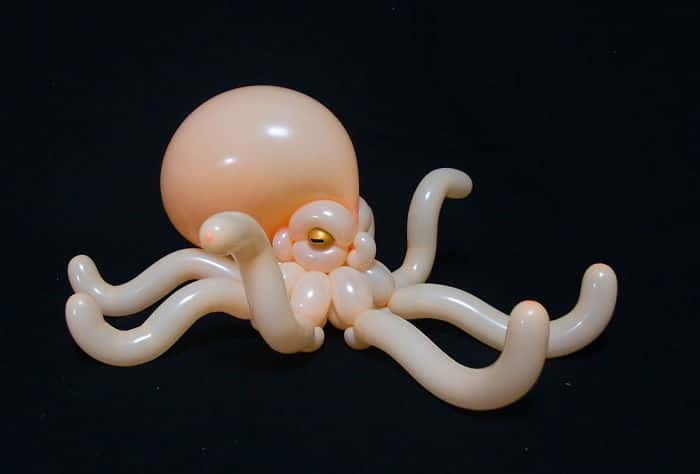 Image credits: Masayoshi Matsumoto
17
Image credits: Masayoshi Matsumoto
18
Image credits: Masayoshi Matsumoto
19
Image credits: Masayoshi Matsumoto
20
Image credits: Masayoshi Matsumoto
21
Image credits: Masayoshi Matsumoto
22
Image credits: Masayoshi Matsumoto
23
Image credits: Masayoshi Matsumoto
24
Image credits: Masayoshi Matsumoto
25
Image credits: Masayoshi Matsumoto
26
Image credits: Masayoshi Matsumoto
27
Image credits: Masayoshi Matsumoto
28
Image credits: Masayoshi Matsumoto
29
Image credits: Masayoshi Matsumoto
30
Image credits: Masayoshi Matsumoto
31
Image credits: Masayoshi Matsumoto
32
Image credits: Masayoshi Matsumoto
33
Image credits: Masayoshi Matsumoto
34
Image credits: Masayoshi Matsumoto
35
Image credits: Masayoshi Matsumoto
36
Image credits: Masayoshi Matsumoto
37
Image credits: Masayoshi Matsumoto
38
Image credits: Masayoshi Matsumoto
39
Image credits: Masayoshi Matsumoto
40
Image credits: Masayoshi Matsumoto
41
Image credits: Masayoshi Matsumoto
42
Image credits: Masayoshi Matsumoto
43
Image credits: Masayoshi Matsumoto
44
Image credits: Masayoshi Matsumoto
45
Image credits: Masayoshi Matsumoto
46
Image credits: Masayoshi Matsumoto
47
Image credits: Masayoshi Matsumoto
48
Image credits: Masayoshi Matsumoto
49
Image credits: Masayoshi Matsumoto
50
Image credits: Masayoshi Matsumoto
51
Image credits: Masayoshi Matsumoto
52
Image credits: Masayoshi Matsumoto
All images source: Masayoshi Matsumoto
Other Artworks Video
https://twitter.com/isopresso/status/1244960952564330497
https://twitter.com/isopresso/status/1244598553252515842
https://twitter.com/isopresso/status/1223944578211794945
https://twitter.com/isopresso/status/1180825091833098240
https://twitter.com/isopresso/status/1147840239819317249
Source: Bored Panda