Some sculpture subjects are inspired by strong cultural symbolism, such as a dove of the universal symbol of peace, or a fish that mimics Alexander Pushkin's description in his poem "The Tale of the Fisherman and the Fish." Specifically for sculptures with articulated components, Verniy studied the animals he tried to model to capture their natural movements in mechanical form. In addition, when he lived and worked in Siberia, Verniy could often directly observe the animals he had created.
Artist Igor Verniy assembles stunningly detailed, steampunk-infused animal sculptures out of discarded metal, car and bike parts, watch components, electronics, silverware, and other metal scraps. Spanning a myriad of species from birds to reptiles to insects, Verniy's works feature working joints to allow the creatures to be posed and re-posed. Many of the pieces are painted after assembly to drape them in a more vibrant color scheme.
Before assembling his creations, Verniy spends a great deal of time watching the animals so he can breathe their life into his pieces. He then assembles his creations out of random old metal bits like old car and bike parts, watch mechanisms, electronics, silverware, metal scraps, pinions, etc.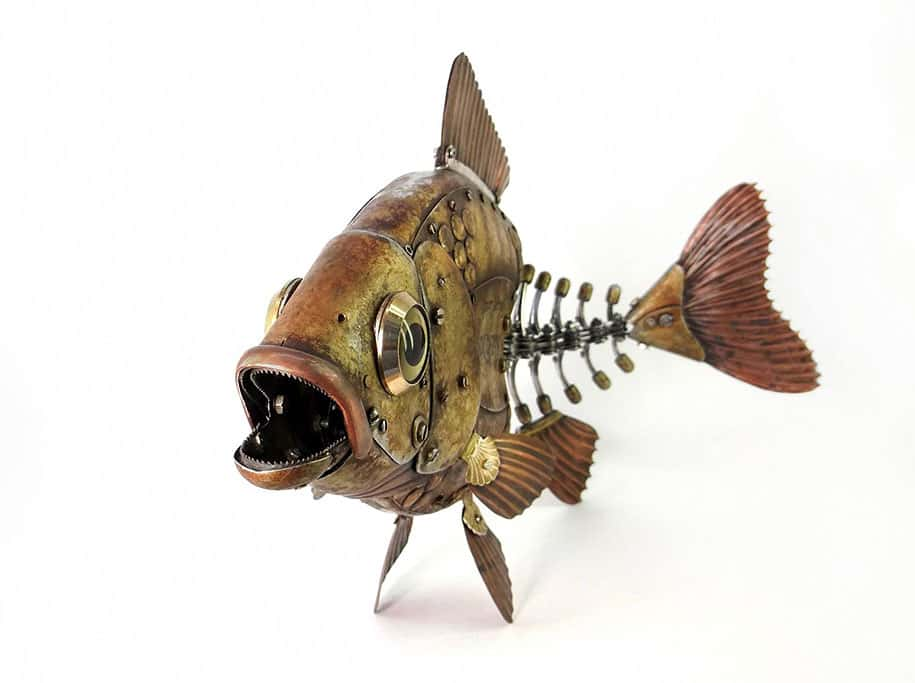 More info: Facebook | Etsy (h/t: laughingsquid , Here )
Source : https://www.demilked.com/steampunk-animal-sculptures-toys-igor-verniy-iggy/ | Play