The development of modern technology which is increasingly fast indeed helps the development, growth, and progress of human civilization more quickly and instantly in all fields. Ease, speed, efficiency, and effectiveness in time and goals can be easier and super fast.
Various Positive Impacts and the ease of modern technology such as the Internet, one of which is easier to add knowledge, Become a medium for communication, Looking for job vacancies, Easier to do business, transaction the others.
There was a negative side to technology, especially the psychological, moral, and social aspects of society in general, people tend to be individualistic and anti-social and prioritize their own interests. There are also such as containing various fantasies and also role-playing that is devoted to adults. This is certainly quite dangerous, especially for children who are actually not allowed to access adult content, various information available on the internet many sites display various information, including information that leads to cruelty, a frequent occurrence, fraud that harms most of the victims.
Technology has changed our lives immeasurably – though you can measure the change with more technology – and our social lives weren't spared, either. Mobile phones, the internet, and social networks have conspired to eat all of our free time and interpersonal skills. Could this be avoided by having a little bit more willpower and maybe admitting that the best use for Facebook is Messenger?
Nay, 'its nothing less short of Armageddon. The trumpet has sounded with the sound of an incoming tweet, and man and his time had been split in twain. No more shall you feel the sun on your face, no more shall you enjoy the touch of a loved one. All that's left is a digital Sheol, the never-ending funny post that nobody liked on Facebook.
The list below of satirical illustrations from various artists highlight some of the impacts of social media and general addiction to technology. Check them out!
Working From Home
Sexting
Islands
Privacy
Evolution
Gossip
Modern Hunter
Something In Your Eye
Twitter
Eating With Friends
Owned
Wonder What's On The Tv Tonight
Duel
linger
Satirical Illustrations
Live Screening
Jesus Christ
Santa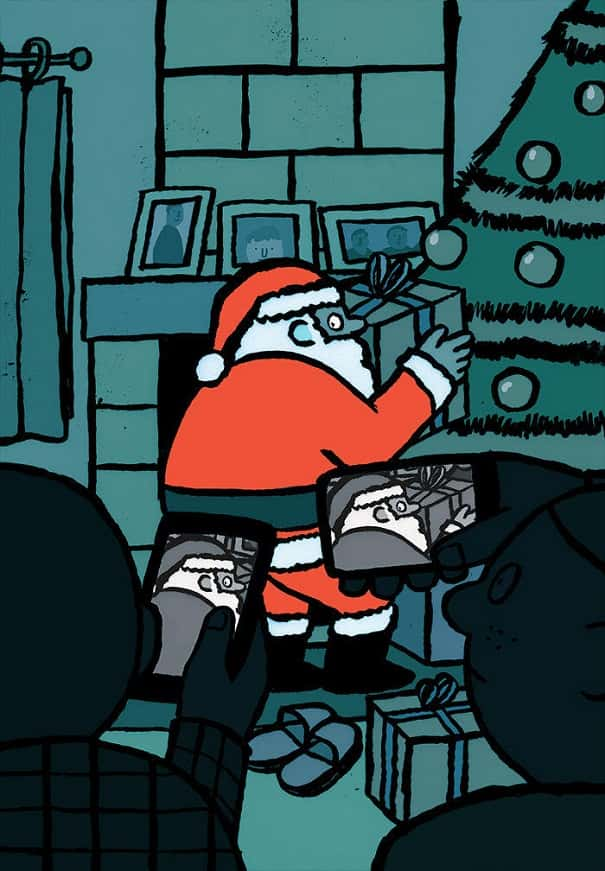 Fishing
Watching
Love
Before And After
Hostage
Passive
Faces
Repair A Small Part Of Facebook Poison
Literature
Let's Play!
Roots
increase statistics
Satirical Illustrations
Modern Tan
Weird on the Subway
Likeholic
Evolution
Freedom
Source: boredpanda