Fredo only uses a drawing book and paper which is deliberately arranged in such a way and painted with a pencil.
But the work he produced was as if someone had come out of a paper and looked terrible. Wow, it can surprise people!
Fredo (real name Wladimir Inostroza ) is an incredible artist and illustrator from Santiago, Chile. The Sifter previously featured Fredo's 3D anamorphic drawings back in 2010 but below you will find an updated gallery of his more recent artworks. Fredo's drawings are anamorphic because they have to be viewed at a specific angle to achieve the 3D effect. If you were to view his work from an alternate angle, elements would appear elongated and distorted.
In an interview with My Modern Met , Fredo says that he's been drawing his entire life but got more serious about it in 2005 when he was a young teenager. He lists Beksinski, Arcimboldo, Rembrandt, Alex Grey, and M.C. Escher as artists that inspire him.
Fredo admits that some of his work only takes 30 minutes to create, while other projects span weeks, or even an entire month to bring to finalization. Fredo uses a combination of real-life objects and a talent for drawing to bring his 2-dimensional art to life. Interestingly, Fredo thanks music artists like Tool, Explosions, and Sigur Ros for helping inspire his creative juices.
Check them out the Amazing 3D of Fredo's artworks below!
1
Fredo's artwork is so diverse, the image below as well as the image above are both a product of his creation. The one above focuses on an elephant literally breaking out of the paper, while the one below features a big-headed nude baby playing a smoke-fueled saxophone. That's the beauty of a true artist, their work is so unpredictable.
2
3
4
5
6
7
8
9
10
11
12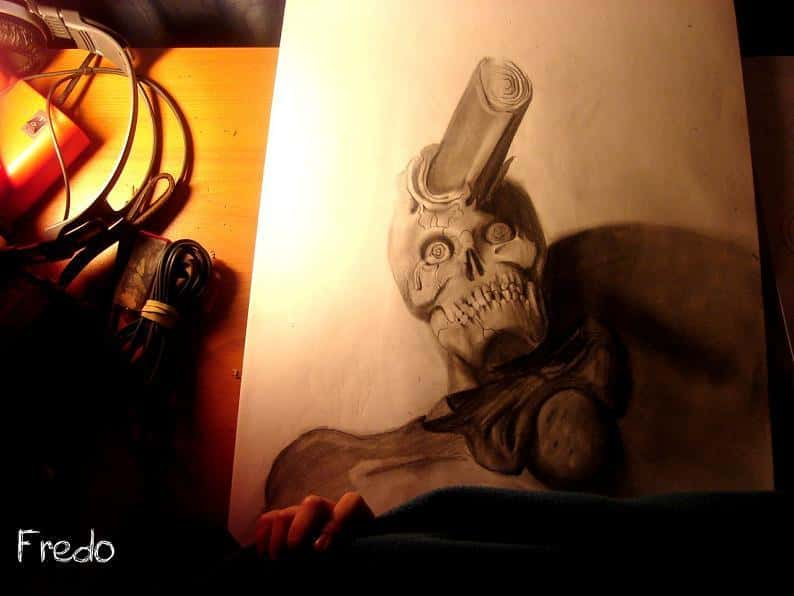 13
14
15
16
17
18
19
20
21
22
23
24
25
26
27
More info, inquiry, and follow: fredosis.com | deviantart I Facebook page I youtube I blog
All Photo Credits: Fredo
All images source: Fredo