Everyone has a bitter point in life, but everyone has the right to a happy ending. In a journey of life, maybe the path we take is not always smooth. Sometimes we find something that hinders the journey, or even makes us turn around. It is our fault to make that as an excuse to complain about the situation. Especially if we look at other people's life's journey that looks smooth without obstacles, maybe we will feel 'why does life seem unfair?'
The journey to perfection is the process that determines each of our steps. Life's journey is about choice, everyone has the right to determine and make his own choices in his life, even though we already have our own destiny. But that does not mean we can only surrender and do nothing.
We should realize that someone is created in his own way, and the length of life's journey also varies. Some have reached their destination, some are halfway there, and some are just starting. So don't be jealous of other people's lives. because we all have our own portions and time, according to our effort, hard work and prayer.
Tum Natakorn Ulit is an artist from Bangkok, Thailand, who creates powerful and heartbreaking comics full of meaningful messages. In a recent interview with Bored Panda, the artist said that the comics are mostly inspired by his own pain and experiences and are a way to express his feelings.
But there's more to Tum's comics than just the expression of his feelings. The man wants his comics to be something people can appreciate and maybe even help them in a way. "Helping others might just be my own excuse, this might just be my own therapy" pondered the artist.
Don't let the colorful appearance fool you – in his comics, Tum deals with many grim topics including heartbreak, loss of loved ones and consumerism. The artist says he's an observant type and focuses on the actual world and things happening around him. "I enjoy seeing, touching, feeling and experiencing. I want to keep my feet on the ground and focus on the present, instead of wondering why or when something might happen," says Tum.
Check out Tum's amazing comics in the gallery below!
More info and sorce : Instagram | Facebook I boredpanda
Insert Coin Here
Image credits: Tum Natakorn Ulit
Soldier Boy
Image credits: Tum Natakorn Ulit
Hello again

Image credits: Tum Natakorn Ulit
Hi and Goodbye
Image credits: Tum Natakorn Ulit
My precious…
Image credits: Tum Natakorn Ulit
Cat's vision
Image credits: Tum Natakorn Ulit
Almost a miracle until…
Image credits: Tum Natakorn Ulit
Hug Hug
Image credits: Tum Natakorn Ulit
His bio on Facebook reads "Only tears can clear your eyes," and his stories, all rendered in cartoonish colors and charmingly soft textures, usually have bittersweet endings that show that forgiveness and hope are possible.
In his comics, people who realize their errors can reconcile with their loved ones, and lost love means that if one person turned out not to be the one, better opportunities are yet to come. He sometimes ventures into social commentary that has no silver lining by nature, such as noting the senselessness of war or the destruction of our natural resources for the benefit of the upper 1%. But in general, the prevailing theme of his work is valuing what we have in front of us, rather than working for unattainable wealth or dwelling on missed opportunities.
Mr. Santa, do you see me?
Image credits: Tum Natakorn Ulit
Pick colors for your nature
Image credits: Tum Natakorn Ulit
Only God(zilla) knows
Image credits: Tum Natakorn Ulit
I choose you, you eat me
Image credits: Tum Natakorn Ulit
No matter how high it is
Image credits: Tum Natakorn Ulit
And they all lived happily ever after?
Image credits: Tum Natakorn Ulit
Happiness Begins
Image credits: Tum Natakorn Ulit
Same hand that hold you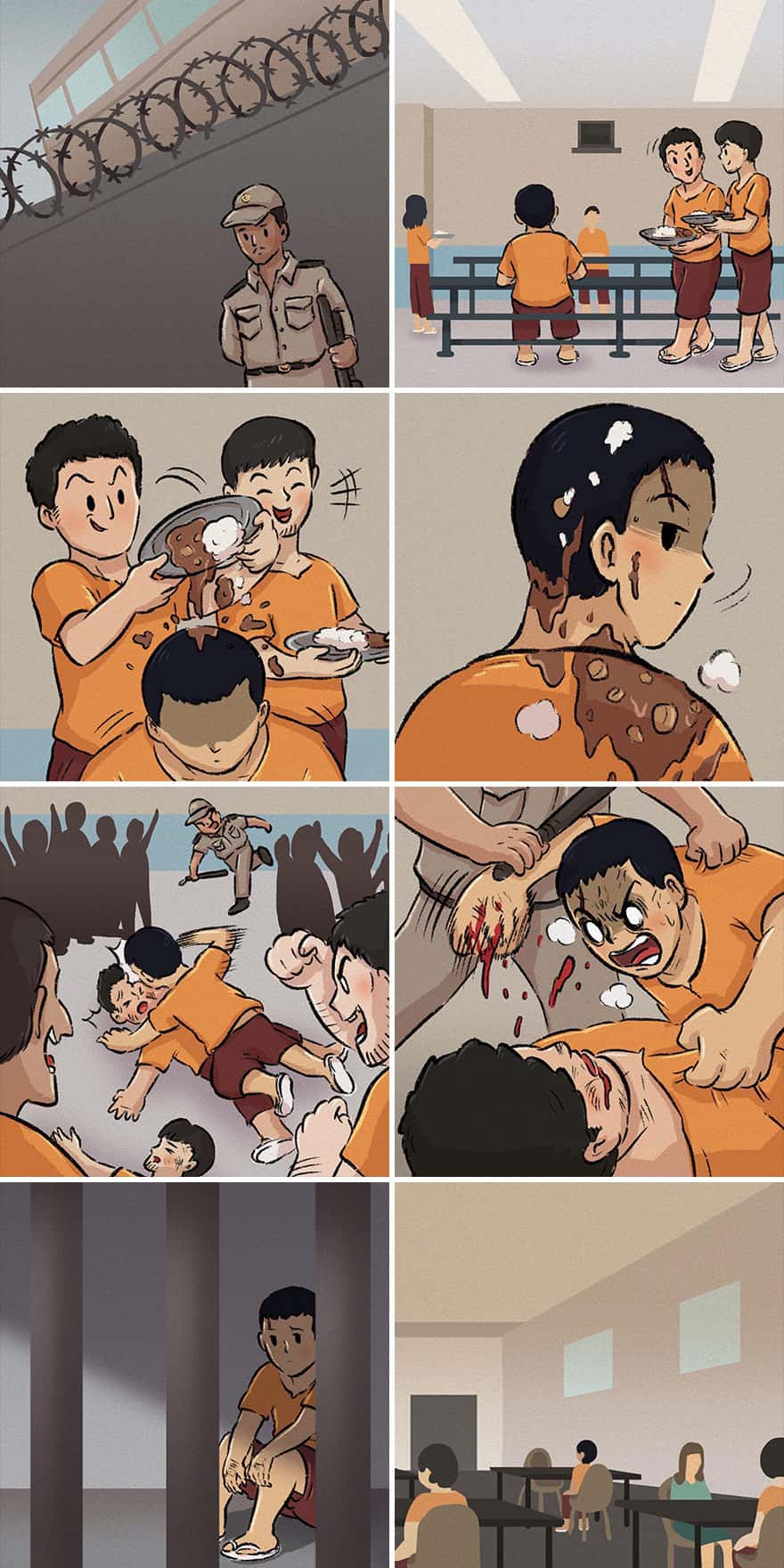 Image credits: Tum Natakorn Ulit
A flower that fits the soul
Image credits: Tum Natakorn Ulit